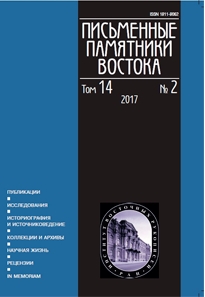 Since 2004, the journal "Pis'mennye pamiatniki Vostoka" has been published by the Institute of Oriental Manuscripts (founded as the Asiatic Museum in 1818) of the Russian Academy of Sciences under the patronage of the Department of History and Philology of the Russian Academy of Sciences. It publishes articles, which are covering all theoretical and practical problems of studying written heritage of the peoples of the Orient. The majority of articles are published in the Russian language.
The Editorial Board office is located in St. Petersburg, Russia. The journal is published by the Moscow "Vostochnaya Literatura" ("Oriental Literature") publishing house with a frequency of 4 issues per year.
The main topics of the journal are represented by the following headings: "Publications", "Research", "Book Culture", "Collections and Archives", "Restoration and Keeping", "Academic Life", "Reviews". The journal publishes translations of the written monuments of the Orient from the world's manuscript collections, libraries, archives, and museums, as well as various research articles, based on written sources, studying history, literature, religions, culture, and ethnography of Asia from ancient times to our days. The Editorial Board accepts articles on the problems of Oriental textology, written monuments, manuscript collections and repositories, problems of manuscript preservation and restoration. Notes on the current academic life events and activity of institutions studying written monuments of the Orient, conferences, research plans, and reviews are also accepted.